Our board game is based on Du Bois' map of the Seventh Ward and features Black residents of Philadelphia as characters. Choose your character to determine your tasks as you travel through the Seventh Ward answering questions and acting out and drawing key concepts.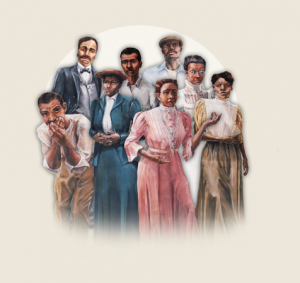 Basic Rules
Form up to 8 teams of two and roll select team characters. The number rolled will tell what social class the team can choose their character from- 5 & 6 are wild.
The highest social classes move first, with the female characters of that class going before the males- Ladies First.
Roll the die to move. You can move in any available space so long as you do not move in a space you have already been on during that roll.
Each space will relate to a type of question card. Follow the instructions on the front and back of the card. Each question card is potentially worth one point.
Draw and Act cards have one minute time limits.
Missions are worth more points! Complete your character's mission cards in any order by landing on the stated location on the board.
The team with the most points wins!
Sample cards