Samuel Joyner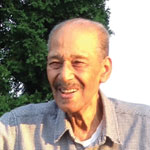 Artist Samuel Joyner was born on February 7, 1924. One of the few African-American cartoonists in the country, he was still in elementary school when he published his first cartoon in The Philadelphia Tribune. He was an illustrator for the Navy and his artwork was published – often without his name – by corporations such as Sears and General Electric. He began using his artistic skills for commentary about racial justice when he worked for Philadelphia's now-defunct Color Magazine. He ran a print and graphic shop with Grace, his wife of more than 40 years, who died in 1994. A retired art teacher, he has two sons and two daughters, seven grandchildren and five great-grandchildren. A featured cartoonist for The Philadelphia Tribune, his work earned the paper a National Newspaper Publishers Association award for best editorial cartoon in 1996. A collection of his artwork spanning more than five decades is housed at Temple University in Philadelphia. He continues to fight for social and economic justice with pen and ink.
Excerpts
"Learn As Much As You Can"
I tried to tell the kids in my class —I taught the graphic communication shop and the printing shop — I tried to tell them to go to school and learn as much as you can because they still going to give the Caucasian kids the advantage. If three people Black come for an interview and three people white come for an interview, who do you think going to get the job?
The Invisible Artist
But it was difficult to walk into an advertising agency in Center City, and get a job. They still gave us a hard time. I ended up with that Caucasians would take my work along with other people's work and they would sell my work to the different agencies and newspapers, and Sears Roebuck and whatever. But it was difficult for African Americans to just walk into one of the agencies. This was 60 years ago, the '40s and '50s; they gave you a hard time.
Military: A Segregated, Brutal Life
It was a segregated Army. The white soldiers didn't mix with the Black soldiers. I was stationed in Fort McClellan, Alabama, which is about 70 miles from Birmingham, Alabama. And at that time they had brought back German and Italian prisoners from the North African Campaign. Because they could hardly feed the American soldiers over there, so they weren't going to feed the Italian and German prisoners over there, so they brought them all back here and then made them work in different parts of the USA…They put me in the hospital and that's when I ran into the German prisoners of war. Do you know in Alabama they fed the German prisoners of war; because they were white, before they would let the Black soldiers eat?
Getting Along with Everybody Now
I wanted to try and make a career out of being an illustrator and artist, so I had to pray to get along with the Caucasians. I met quite a few of them that helped me get places like this. The white guys that were selling my work to General Electric and Sears Roebuck and all those places, some black guys didn't treat me that good, you know. So that changed my mind about hating white people. I try to get along with everybody now.
The Black Church: A Place for Spiritual Healing and Education
I think the Black church was different. I think they were out to save souls and try to educate the people that couldn't afford to go to college or whatever. They tried to help them.