Reba S. Poole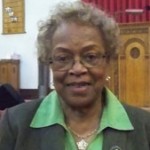 Reba S. Poole is a lifelong and fourth-generation member of Tindley Temple United Methodist Church in Philadelphia's Seventh Ward. This is Poole's account of her life, especially at Tindley Temple, and its influence on her family and community. Born September 17, 1928, she retired in 1992 as assistant director for human sexuality for the Philadelphia school district after 22 years. Her husband, Isaiah, whom she married in 1965, died in 2005.
Excerpts
Get a Strong Education
We try to keep that now. We love you but there are some things that we expect of you. One of the main things we stress is education. You've got to have that education. If you don't get anything else, get a strong education and have a purpose. We have eight young people who are pursuing either a master's or doctorate, and we just think that's wonderful. I say we must be doing something right because the young people come back.
Getting it Right on the Job
I found that in my work – I was a specialist in human sexuality for the city – I had to be concerned about what I'm doing. I have minds that I am forming. And I have to make sure I am giving out the right information but letting them make decisions based on facts.
The Black Family in a Material World
And I find now, we talk about it quite often, the families are not what they used to be. They're not reaching out as much. They're giving their children too much material things and not the strong foundation they need. We are lucky. We have those in this church four and five generations.
The Black Church: Inspiring the Next Generation
The role for Black congregations like Tindley Temple was of Black strong women and men giving leadership and being mentors to the children, spiritually and emotionally, and giving them the drive to be something. Nothing is out of their reach. Anything can be accomplished.