Rev. Lillian Smith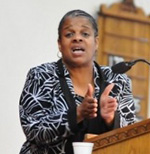 The Rev. Lillian Smith was pastor of Tindley Temple United Methodist Church, a South Philadelphia congregation, from 2011 until 2014. Born May 12, 1965, she is a South Carolina native. She considers herself a beneficiary of the civil rights movement and has witnessed significant changes in race relations since the 1970s.
Smith studied sociology at Hampton University, where she first learned about W.E.B. Du Bois' "The Philadelphia Negro." A fourth generation Methodist, she graduated cum laude with a Master of Divinity from United Methodist-related Wesley Theological Seminary in Washington. Smith served as a Howard University campus minister and an associate pastor of Asbury United Methodist Church in Washington before spending almost 15 years in administrative roles in the United Methodist denomination, including in the Eastern Pennsylvania Conference. She is the second woman pastor at Tindley Temple, immediately succeeding the Rev. Elaine Ayres. She lives in King of Prussia, Pa., with her husband, the Rev. David Cassidy, and their two sons, David and Hayward.
Excerpts
Tindley Temple Legacy of Serving the Community
Early on when I came, I heard that during the Great Depression, the chairs that are now in the balcony would be moved through the day so that people could come in and sleep during the night. That's when the soup kitchen started. And it's been operational ever since. When people could not find hotel accommodations because of racism, the families here would open their homes for people coming from the South so that they would have a place to stay and could go get employment.
Double Standards of Racism
The reality is we have an African-American president and people of African descent in the U.S. have opportunities many of our ancestors did not. Now, that is true. But there's still a double standard in some regard, even if it's subconscious, related to people of African descent. You still have to be twice as good, twice as smart. You have to be doubly prepared for anything you do to be perceived as a person of worth or of intellect or of respect.
Changes in Race Relations
I was one of the first classes of busing in Prince George's County. We've come a long way. We're not where we were, but even Prince George's County is now predominantly African-American. It has had county executives who've been African-American. That's not the way it was when I was growing up.
Church's Social Justice Role
Don't lose our prophetic edge. Speak to power and love. When things pop up that are not just, we have a God-given responsibility to call them out. If there's not justice for people in the community, we have to speak for it. That's what organizations with power are doing. Demonstrate the love across the line, the color line – whatever you want to call it. Demonstrate the love, and demonstrate cooperation and shared ministry. You know what? Our God has created a multicultural people – multicolored people, multilingual people. We have to be involved with everyone, not look down upon anybody. But just love and cooperate with them.