Hattie Gaines Hamilton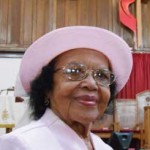 Hattie Gaines Hamilton is a woman of many firsts – first black woman president of the Eastern Pennsylvania Conference United Methodist Women and first black woman delegate from the Eastern Pennsylvania Conference to the General Conference of the United Methodist Church. She married Rev. Dr. LeRoy L. Hamilton in 1957. In 1973, they became part of the ministry at Tindley United Methodist Church. Her leadership in the United Methodist Church took her around the world from California and New York to Israel and Singapore and even China. Hamilton shares her experiences as a graduate student at the University of Pennsylvania, an educator in Maryland's public education system and committed Christian. Born April 19, 1925, she retired in 1976 after serving as a math and science teacher, vice principal and guidance counselor. Her husband of 29 years passed away in 1986. She continues to nurture the children that cross her path.
Excerpts
The Need for Discipline
One day the kids were out there fighting, no one went out there. They had one boy out on the street. He could have been dead! And all of them stand around him. And you know what they say to me? "He might do something to your house!" But no one even called the cops! I went out there in the streets, and if a little boy said something to me, and I said, "I don't care if you live to be 50 years old, don't you ever do that again!" Now every time I see him, he asks, "Is there anything I can do for you? Do you need something?" Kids need discipline, they want to be taught.
Race was Never my Problem
I got along fine. In math, I was with all white men. Sometimes, the professors, being that I was black and a woman, they would ask me questions that they thought I could not answer. One of the men would slip me the answer. I knew the answer, however. I had no problem there at all. In fact, there was another white lady in math class, and we both graduated together. When she got married, I went to her wedding.

I got along fine. I think it depends on how you think about yourself. I never thought about myself as "being black." I just always thought about myself as being as good as anybody else. When we'd go to the cafeteria and they'd say, "Are you gonna be eating watermelon?", I would laugh, and say, "Why? Because black folks eat watermelon?" [laughs]. I could've had a white husband if I wanted to, too, I guess. I had a whole bunch of little white men who wanted to court me. So I had no problems.
Race Relations in the United Methodist Church
Here in Philadelphia, I was the first black to be president of the United Methodist Women for the Eastern Pennsylvania Conference. I had a lot of firsts, because, I always felt I was as capable as anyone. I was a person. I had parents that taught me that same thing. My dad said you could do or be anything else that anyone else did. Even here with the Conference, I've traveled all over the world, to Africa and Singapore and China. Because I love to travel, and I like people, I haven't really had too much trouble as far as my relationship with the whites. But, there have been problems.