Doris Reddick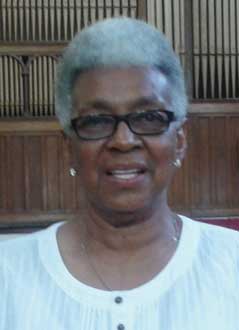 Doris M. Reddick, born September 21, 1931, has been a member of Tindley Temple United Methodist Church for more than 50 years. In 2012, she had lived in Philadelphia for 58 years. Her Seventh Ward house is in walking distance of Tindley Temple. For 28 years, she was school community coordinator for the Philadelphia school district. Her husband of 26 years, Henry, died in 1983.
Excerpts
Racial Identity and Tindley Temple
They have showed me what black people can do. I come from a little small town. There were very few black people in the town where I came from. In fact, in the 8th grade, I was the only black. The class coming behind me, there were two. I'm from a white neighborhood. So we didn't know about black history. We didn't know anything about it. Coming here, I didn't know that much about Dr. Tindley, Du Bois or any of them, Marian Anderson. I heard of them but that's about it. But coming here I've learned.
Change in the Community
Our neighborhood is changing. It's been changing for about the last two years. We're losing our black residents. I find that a lot of 'em did not own property so, when houses came up for sale, there they go. In my block alone – and I live in a small, short block – there are just four black families in my block. The rest are white. When I moved there, the block was full of black people.

The more you go around in this particular neighborhood, it's just inundated with white people. Whereas when I first came here it wasn't. This was an entirely black neighborhood. You see it in the school.
You see a Spanish kid. You see Asian children. When my children were going there, they were all black.
Disappearance of Black-owned Businesses
We used to have little mom and pop stores. We don't have them like we used to. They were owned by black folk. Now the stores that are in the neighborhood are owned by Latinos or Asians. You don't have too many that are black-owned and I think that does something to your neighborhood, too.