Ardelia Saunders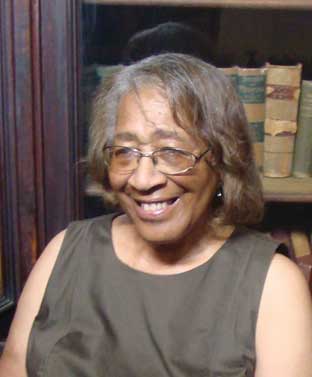 Ardelia Saunders is a lifelong Philadelphian, born on Jan. 8, 1936. As a child, she attended Beth-Said United Methodist Church, a sister church of Tindley Temple United Methodist Church but was a student at Tindley Temple's Sunday school. She became a member of Tindley Temple in 1995. She worked for 25 years at Hahnemann University as a dispatcher in the patient transport department until January 9,1988. She was married to the late Leon Saunders in 1955 and they divorced after 12 years. They had 3 sons.
Excerpts
Electing Obama
I never watched voting day. I never watched as the returns come back, but in 2008, I did. I just could not believe it, that actually they had voted for a Black man. I never thought I'd see that day. I wished that my grandmother had.
Everybody is Equal
She would say white folks have all the sense, no matter how I tried to tell her everybody is really equal. We have dumb people, smart people in all races. To me, everybody is the same, it's just some people is more ambitious than others and they strive for different things. But in reality, at the end of the day we're all the same. We're all God's children.
Race Relations
I think people get along better. I mean you can't ever forget that you're Black, but there's more togetherness than there used to be. When I was younger, you stayed in your place and they'd let you know. When I was in school, I had one Black teacher.
The Church and Community Change
At Tindley Temple, we don't have the membership we used to have. There was a time when you couldn't hardly find a seat in this big church. Now it's no problem. The membership has really fell down and probably one reason is because the neighborhood has changed and the surroundings. It was predominantly Black. Now there are more white persons.