Tindley Temple United Methodist Church
Tindley Temple United Methodist Church traces its roots to 1837 and is best known for its 20th-century pastor, the Rev. Charles Albert Tindley, who wrote more than 60 hymns. When it was known as Bainbridge Street Methodist Episcopal Church, the congregation was one of 55 churches studied by Du Bois in the 1890s. At that time, the 55 Black churches in Philadelphia ran limited programs such as burial societies and building and loan associations. They had combined assets of just over $9,000. Philadelphia's Black churches have greatly expanded in number, exceeding 700 as of 2003, and in outreach, offering diverse programs ranging from children/youth activities and educational programs to health care and financial literacy programs to commercial ventures. Their financial impact on the community has also multiplied as they contribute more than $9,000 per congregation for social services.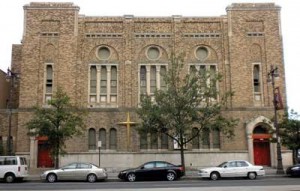 In Tindley Temple's heyday in the 1920s and '30s, the church's 3,200 seats were filled three times each week – twice on Sunday morning and again during a third Sunday evening service. During this period, the 12,500 members flowing through the doors each week were both Black and white. Tindley Temple broke not one but two racial barriers: In addition to being one of the very few multiracial churches in the nation, it was also the first Black church to own property on Broad Street in Philadelphia. Its multi-million-dollar building is recognized on the National Register of Historic Places. Due to the church's historical and cultural significance and close proximity to the Seventh Ward community, approaching its members seemed a reasonable place to begin Du Bois' The Ward Oral History Project. These members add an essential perspective to the history of this community with their stories.